One aspect of our program that truly sets St. Rita's apart from other programs is our private fitness facility specifically designed for St. Rita's employees and weight management program participants. Patients have 24-hour key-coded access to the facility.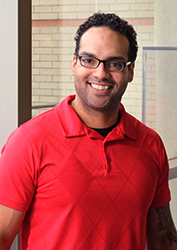 The center is newly renovated and is run by our exercise physiologist, Abe Frieson. With experience in obesity himself, Abe found his way to better health through physical fitness. We realize "exercise" can be intimidating, but burning calories can be done in many ways and can lead to better long term health and fitness. Everyone can do something. We work hard to meet you where you are. We provide guidance and support.
We have learned that even just 10 minute bites of exercise can be beneficial!
Physical activity is:
Necessary to boost the metabolism
Necessary to maintain weight loss
Necessary to attain fitness
Necessary for wellbeing
Necessary part of life
---
For more information, or to get started, register for a St. Rita's Weight Management seminar.