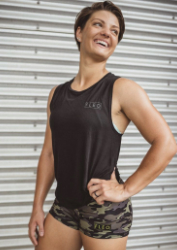 As our new Fitness Coordinator Caitlyn Stoner has helped hundreds of people like you achieve their fitness goals. From working with professional athletes in world renowned fitness facilities, to coaching everyday clients through an app. With a host of qualifications including her USAW and CPT, she is driven by passion to help you succeed. Caitlyn is originally from Mount Gilead, OH but has recently moved back to the Saint Mary's area from Houston, TX with her husband Seth. Caitlyn went to Urbana University and played softball while receiving her bachelor's degree in Exercise Science. After graduation Caitlyn and her husband move to Columbus and worked at The Ohio State University as a Strength and Conditioning Coach, working with various sports such as Men's Volleyball, Men's Swimming, Softball, Women's Ice Hockey, and Men's Soccer.
Caitlyn and her husband decided to take an adventure and move out to Houston, Texas for a couple of years. There she found a facility that allowed her to train children, college athletes, professional athletes, and general population adults. She also got to work alongside doctors and physical therapists to learn more about the rehabilitation process, and how she can help them get back to a healthy state through strength and conditioning.
Caitlyn has a vast background in fitness with her experiences the last 9 years from yoga to CrossFit, HIIT training, Pre/Post pregnancy training, Rehabilitation training, and of course Strength Conditioning.
For her this is more than just a training program, she genuinely wants to help you create lasting changes to your life. She wants to help show you the methods to achieve your success because it is possible, and you don't have to give up the things you love to do so. No matter where you are in your journey or what you've tried before, Caitlyn is determined to become the ignition you need to fuel your mind and body.