Abe earned a Bachelor of Science in Strength and Conditioning and an Associate of Arts in Personal Training at the University of Findlay, Findlay, OH. He is a member of the National Strength and Conditioning Association (NSCA) since 2011. He runs the St. Rita's fitness center for employees and weight management patients. In addition to his education and internship experience, he has been personal training since 2008 as an independent contractor and a fitness facility employee. His experience includes a great deal of time working with obese, elderly, and sedentary individuals. He has worked with clientele of all fitness levels, from physically disabled to athletes. He describes a very valuable part of his experience is his personal one: prior to becoming a personal trainer, he says he was obese and sedentary. Through research and trial and error, he worked himself back into the shape and maintained his weight. This gives him an advantage relating to our patients.
Abe's role on the team:
As the Exercise Physiologist/Fitness Coordinator, he welcomes and orients clients to the fitness center. He instructs patients on proper use of equipment and exercise form as he introduces them to their fitness plan. He provides instruction, support, and encouragement because fitness is an essential key to life-long weight management.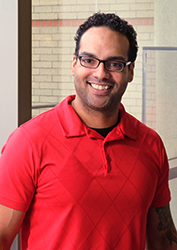 What Abe does to LivWell:


"To live well, I make sure to get regular exercise, stay active with my family and get plenty of sleep!"